Director of DJAM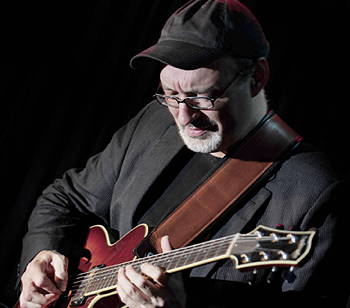 Christian Hassenstein (born in 1960) is the artistic director of DJAM. In 1990 he founded DJAM with the intention of offering a musical education with an own character and structure (see About DJAM). He picked up the guitar at age 15; studied jazz and classical guitar from 1982-86 at the conservatory in Graz, Austria and jazz guitar from 1986-88 at the Hilversum Conservatory (diploma) with Wim Overgaauw.
Played and studied with (among others) Gil Evans, Attila Zoller,Toon Roos, David Friesen, Ernie Wilkins, Phil Wilson, Lee Konitz, Ack van Rooyen, Dave Liebman, Ferdindnad Povel and John Engels.
Plays in his own trio and quartet since 1983 throughout Europe in jazz clubs and at festivals.Has been active with electronic instruments and computers (MIDI) since 1992. Began teaching in 1980; taught at the Hilversum Conservatory from 1987-92 (jazz guitar as main subject).
For more information (including CDs and gigs) please visit Christian's website.